8 Steps to a Solid SEO Strategy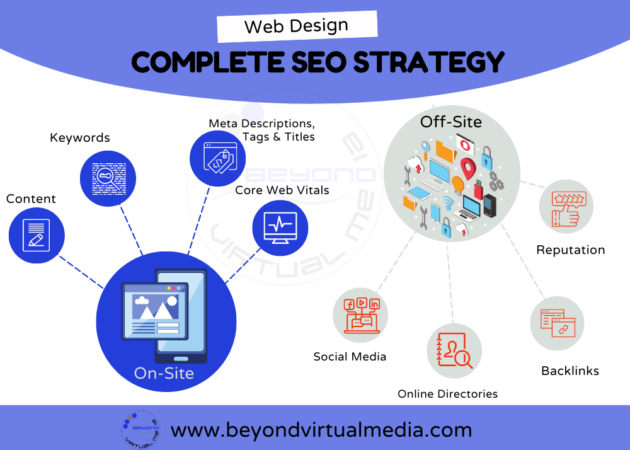 8 Basic Aspects Every SEO Strategy Should Consider
There was a time when good SEO was thought to be cramming keywords throughout a website. However, search engines have come a long way, and optimizing your website includes much more than good keywords.
What is 'good SEO'?  A good search engine optimization strategy gives adequate attention to your entire website, (front and backend)  as well as your online reputation.
The basics of a good SEO strategy can be divided into two major categories: on-site optimization and offsite optimization.  In this article, we break down the particulars of each of these aspects.
On-site Optimization
On-site optimization includes everything you can do to your actual website to improve SEO.

Keywords – An analysis of target words for each page with your target audience and goals in mind.
Content – Is your content relevant, clear, and original? Do you need to include more relevant content using blogs, services, or even a portfolio?
Meta Descriptions, Tags & Titles – Are your pages titled? Do they include relevant descriptions with keywords? Are your image and media alt tags and titles well written?
Core Web Vitals – Ensuring your page meets Google's core web vitals standards; this includes page speed, loading time, and accessibility. Mobile responsiveness is also very important.  Most people use their phones to search the internet so you want to make sure your site is accessible for mobile users.
Off-Site Optimization
 Off-site optimization works with anything that can link back to your website. This includes other websites, search engines, and even social media.

Online Directories – Is your business info accurately listed with major search engines and business directories?
Backlinks – Are your backlinks clean? Are reputable sites linking back to your site? Do you have harmful links back to your site?
Social Media – Although this may be near the end of the list, it definitely can't be overlooked. Tapping into social media is an excellent way to boost a website's reputation, and identity.
Reputation – Do you have reviews? Are they positive or negative?
We've compiled these steps into an easy to follow SEO Strategy infographic!
Is Hiring an SEO Agency Really Necessary?
Whether to hire an SEO company depends on the needs of your website. There are many things you can do on your own to improve your site. For example, do you have a well-built site that lacks relevant content? Possibly adding relevant content trending in your field will be a good start.
However, if you want to rank higher than tough competitors, you may need to consult with a professional. An SEO expert can identify goals for your site and target needs specific to your small business.
Additionally, an SEO specialist will create link-building strategies and provide reports to help you track your improvements. They can also run and manage competitive ad campaigns to help you maximize your budget and drive traffic.
There are many more areas of SEO and marketing that go dive deeper into ad campaigns and advanced marketing strategies.
If you want to make sure your SEO specialist is focusing on what's important to you, our blog "Complete SEO Strategy for Small Businesses" is packed with tips and best practices.
Ready to Optimize your Website – What's next
A solid SEO strategy is very important for small businesses because it helps them stand out locally and appear in search results.
To get started you first need to find out if your site is fully optimized for search engines and what areas need attention. Contact your webmaster if you have one or send us a message and request your free website evaluation.
We can provide you with suggestions unique to your sight and SEO services to implement them.
Now you're ready to be found on the web!  We'd like to hear some of the challenges you've had as a small business owner and how you plan to use your new knowledge. Share your thoughts with us.